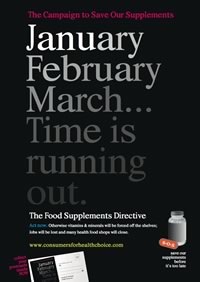 Save Our Supplements
Help us fight to protect consumer choice and keep healthy supplements away from the EU bureaucrats
You've probably heard about the EU Food Supplements Directive, which was passed into UK law in August 2005. This is legislation handed down from Brussels that is intended to harmonise the sale of vitamin and mineral products across Europe. The aim is to make cross-border trade easier and to protect public health.
Both of these aims are laudable, but unfortunately the Brussels machine has taken a 'lowest common denominator' approach to the issue and there is very real danger that supplements which UK consumers have been using for years could disappear.
In 2005, the first part of the Directive came into force. This sets out the vitamins and minerals that are permitted in food supplements, and the forms of those vitamins and minerals that can be used. Any ingredient that is not on the 'Positive Lists' cannot be used in food supplements.
Since the first release of the Positive Lists a number of ingredients have been added to them, during a period of derogation that ran until 31 December 2009. Any ingredient not added to the list by then can no longer be used, and here at Health Plus we have had to undertake some re-formulation to keep some of our vitamin and mineral products within the law.
The second part of the Directive - the setting of what are known as Maximum Permitted Levels (MPLs) going through a consulation period now. It will decide how much of each ingredient may be included in a product, and this is the danger area.
Across Europe, food supplement potencies are generally lower than those of UK products. The UK consumer has much wider freedom to choose therapeutic, optimum dose products than their mainland Europe neighbours and this is now under threat. If MPLs are set low, then many products will disappear from the UK market.
So, action is needed and it's needed NOW! Consumers For Health Choice have been working hard to lobby MPs and MEPs to stop this Directive crippling the UK supplements industry and they need asmuch help as they can get. Check out their website at www.consumersforhealthchoice.com for information on how you can get involved - including writing to your MP and writing to the EU Commissioner responsible for this Directive.
To protect your choice, you need to act now. Please do.
Find out who your MP is by visiting www.theyworkforyou.com