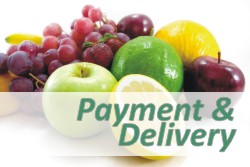 The information on this page is designed to answer all your questions about payment for and delivery of your Health Plus order. If you can't find the answer you're looking for, please email paydel@healthplus.co.uk with your question.
Payment
We've tried to ensure that paying for your order is as convenient for you as possible, so you can use your Visa, MasterCard, Maestro, Switch or Solo card. We also accept cheques and postal orders, but would not advise sending cash through the post.
If you'd like to pay for your order by card, please enter the details as requested during the checkout process. Card payments are not processed 'live' but are processed manually by Health Plus staff upon receipt of your order.
To pay for your order by cheque or postal order, please select the appropriate option during the checkout process. Please make your cheque is made payable to Health Plus and send it to:
Health Plus
Dolphin House
G1 Chaucer Business Park
Dittons Road
POLEGATE
East Sussex
BN26 6QH
No orders can be despatched until payment has been successfully received.
Discount codes and coupon codes
If you've received a coupon code or a discount code from us, to apply it to your order just enter the code in the 'Do you have a discount code or coupon?' box towards the bottom of the Shopping Cart page. Please remember, though, that you can only use one coupon or discount code per order and it must be entered EXACTLY as it was sent to you or it will not apply. We'll do our best to make sure that any incorrectly entered codes are still applied, but we can't guarantee it!
Coupon and discount codes must be entered at the 'Shopping Cart' page and cannot be entered after you have clicked the 'Checkout' button. To make sure your discount is applied to your order, please be sure to enter your code before starting the 'Checkout' process.
All coupon and discount codes have expiry dates, so if you've entered the code correctly and your order total still isn't updated, it is probably because that code has expired. Some codes, also, will be of the 'use once' variety, so if you've used it on a previous order you won't be able to use it again.
Finally, some codes will only be valid for use by customers with a registered account, who are logged in. If the code you are entering does not appear to be working, log in and try again.
Pricing
The prices shown on this website are in pounds sterling and all transactions will take place in that currency. An approximate euro equivalent is also shown, but this is for guidance only. If your local currency is euros, you may pay more or less than the amount shown depending on the prevailing exchange rate. This website uses data supplied by xe.com to calculate euro prices and we make no guarantees that the information supplied is accurate.
If your local currency is not pounds sterling or euros, you can get an indication of the current exchange rate by visiting xe.com.
Pricing for deliveries outside the UK
Now that the UK has left the EU, we do not charge UK VAT on deliveries being made outside of the UK. It should be noted, though, that due to current agreements that are in place, customers outside of the UK may be liable for import duties, taxes or other charges before they can take delivery of their order.
These charges (if applicable) may vary from country to country and with the value of the goods being shipped. All such charges are the responsibility of the person receiving the goods.
Delivery
Orders are despatched as soon as possible after we receive them. This generally means that orders received before noon Monday to Friday will be despatched the same day, while orders received after that time will be despatched on the next working day.
In the UK
All UK orders are sent by second class post, unless otherwise requested (there may be an additional charge for services other than second class). Postage is free on all UK deliveries over £20 in value. Orders under £10 are charged £2.45 and orders between £10 and £20 are charged £1.95.
Delivery by second class post takes, on average, three or four working days. Please note that, during the Covid-19 lockdown, this delivery time is at least doubled.
If you are not in when the postman calls..
Unless your letter-box is larger than standard, your parcel will not fit through. This means that there will need to be someone available to take the parcel in. If the postman is unable to deliver, he should leave a card and the parcel will be taken back to your local sorting office, from where you can arrange collection.
If required, we can deliver to your work address, or other convenient location; please tell us if you would like us to do this when you place your order. We can also add instructions to the outside of the parcel, such as "If out, leave with neighbour" or "If out, leave in porch". However, we cannot guarantee that these instructions will be acted on and we can accept no responsibility for parcels that go missing once these instructions have been complied with by the delivery person.
Outside the UK
All non-UK orders are sent by Royal Mail Airmail and postage is charged according to the weight of the parcel and the destination country. Postage charges will be automatically calculated during the checkout process. Larger orders with greater weight (over 2kg) may be split into several parcels, to reduce the cost of postage.
Delivery by Royal Mail Airmail varies from country to country but you should allow at least 14 working days. Some destinations (especially outside Europe or where customs services are likely to delay parcels at entry) may take up to 30 working days. (Working days are Monday to Friday, and do not include the day of posting). Please note that, during the Covid-19 lockdown, this delivery time is at least doubled.
Weight (g)

Postage & Packing Charge (£)

From

To

Europe

World Zone 2

World Zone 1

0

100

3.00

3.13

3.13

101

150

3.25

3.67

3.64

151

200

3.50

4.21

4.15

201

250

3.76

4.75

4.66

251

300

4.01

5.29

5.17

301

400

4.66

6.43

6.25

401

500

5.30

7.57

7.33

501

600

5.95

8.71

8.41

601

700

6.60

9.85

9.49

701

800

7.25

10.99

10.57

801

900

7.90

12.13

11.65

901

1,000

8.54

13.27

12.73

1,001

1,100

9.19

14.41

13.81

1,101

1,200

9.84

15.55

14.89

1,201

1,300

10.49

16.69

15.97

1,301

1,400

11.14

17.83

17.05

1,401

1,500

11.78

18.97

18.13

1,501

1,600

12.43

20.11

19.21

1,601

1,700

13.08

21.25

20.29

1,701

1,800

13.73

22.39

21.37

1,801

1,900

14.38

23.53

22.45

1,901

2,000

15.02

24.67

23.53

2,001

2,500

20.33

32.24

30.86

2,501

3,000

23.57

37.94

36.36

3,001

3,500

26.81

43.64

41.66

3,501

4,000

30.05

49.34

47.06

4,001

4,500

35.35

56.91

54.39

4,501

5,000

38.59

62.61

59.79

5,001

5,500

41.83

68.31

65.19

5,501

6,000

45.07

74.01

70.59

6,001

and over

84.00

100.00

95.00

[According to Royal Mail classifications Europe is: Albania, Andorra, Armenia, Austria, Azerbaijan, Belarus, Belgium, Bosnia Herzogovina, Bulgaria, Croatia, Cyprus, Czech Republic, Denmark, Estonia, Faroe Islands, Finland, France, Georgia, Germany, Gibraltar, Greece, Greenland, Hungary, Iceland, Ireland (Republic), Italy, Kazakhstan, Kyrgyzstan, Latvia, Liechtenstein, Lithuania, Luxembourg, Macedonia, Malta, Moldova, Monaco, Montenegro, The Netherlands, Norway, Poland, Portugal, Romania, Russia, San Marino, Serbia, Slovakia, Slovenia, Spain, Sweden, Switzerland, Tajikistan, Turkey, Turkmenistan, Ukraine, Uzbekistan, Vatican City. World Zone 2 is: Antartica, Australia, Belau, British Indian Ocean Territory, Christmas Island, Cocos Island, Coral Sea Island, Fiji, French Polynesia, Keeling, Kiribati, Macao, Nauru Island, New Caledonia, New Zealand, Niue Island, Norfolk Island, Papua New Guinea, PDR of Laos, Pitcairn Island, Samoa (Western & US), Singapore, Solomon Islands, Tahiti, Tokelau Islands, Tonga, Tuvalu. World Zone 1 is: Any country not listed elsewhere.]

[UK VAT: UK VAT is charged for deliveries to European countries that are EU Member States. European prices shown in this table include UK VAT, which will be deducted at checkout for any European but non-EU deliveries. Prices shown for Non-Europe do not include UK VAT.]